Successfully qualifying progressive initiatives for the ballot is part of GroundWorks Campaigns' work with organizations statewide. Last year we gathered 126,000 signatures for three important ballot measures. We're pleased that all three qualified for the 2016 ballot and passed and we're proud that each measure meant real progress for real people across California.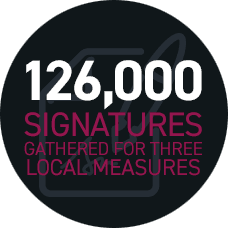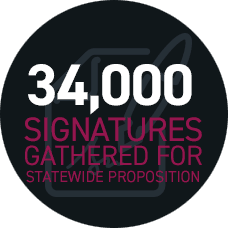 Opportunity to Work
Many part-time workers struggle to make ends meet – often juggling multiple part–time jobs making it difficult to keep a schedule that allows them to plan for school, care for their families, or take time off when they are ill. This initiative requires businesses in San Jose to offer any available additional hours to current part-time employees before hiring more workers – ending the abusive practice of hiring more part-timers before creating full-time jobs.
Build Better LA
LA is experiencing a housing shortage of more than 80,000 units at a time when fewer Los Angelenos have jobs that pay enough to keep pace with skyrocketing rents. The Build Better LA Initiative offers incentives such as faster permitting and flexibility on type and locations of building to housing developers who build low and moderate income housing and hire locally.  BBLA means more affordable housing for LA, especially in high density areas and around transit hubs as well as more good, local jobs.
Long Beach Neighborhoods First
This initiative ensures that Long Beach patients have access to safe, regulated medical marijuana by allowing the city to permit a limited number of licensed marijuana dispensaries.   The measure contained strict guidelines, about where dispensaries can be located and when they can be open. It also allows for a 6% tax on gross receipts, opening up a new revenue stream for local programs.  The measure was supported by a broad coalition of patients, healthcare advocates and small businesses.
Proposition 57
In addition to paid signature-gathering programs to put three successful measures on the ballot, GroundWorks managed a statewide volunteer signature-gathering campaign for California's statewide Proposition 57 initiative – the Public Safety and Rehabilitation Act.  The PSRA calls for criminal justice reforms including incentivizing people in prison to complete rehabilitation and education programs to shorten their sentences and requiring judges rather than prosecutors to decide if a youth as young as 14 should be tried as an adult. The volunteer program gathered more than 34,500 signatures in support of Prop 57.