Running a statewide coalition-led field campaign comes with special challenges – GroundWorks Campaigns accepts these challenges and wins. Prop 55 was one of the most important propositions on California's crowded 2016 ballot. Extending the current tax rate on the wealthiest Californians and defending public education for twelve more years, Prop 55 held the line for California's kids, community college students and unions – even more critical in retrospect, given the changes taking place at the national level.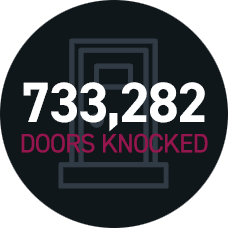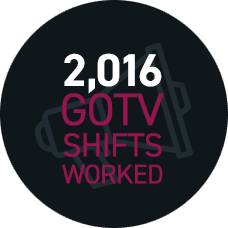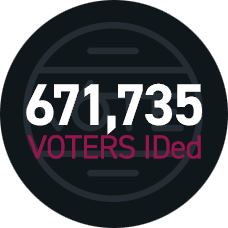 During an intense ten-week program, our GroundWorks teams' reach was powerful, delivering a message that resonated strongly with voters – not a small feat in California's intense 2016 campaign season.  In order to win, we set two big goals: to ramp up quickly, grabbing voters' attention early on and to make direct, personal contact with half a million targeted voters in both English and Spanish.
Our paid teams in the field met both of our goals easily – making 671,735 IDs, knocking on 733,282 doors across the state and dialing 2,028,781 phone numbers. Working out of 13 offices statewide, the field teams' efforts were unflagging – working 18,367 shifts up to the final four days and another 2,016 shifts in the last days immediately before the election. Our teams brought the same unified message to each conversation with voters: "Help Our Kids Thrive, Vote Yes on 55!" – developing a variety of creative ways to help voters remember to vote yes on Prop 55 from chants to jingles to dances.
Throughout the course of the campaign, coalition partners coalesced remarkably well. Community groups and labor organizations from around the state brought incredible enthusiasm and energy to the campaign. GroundWorks facilitated a program that supported these many groups – all of whom have a stake in California's future – in staying on message, building on voters' emotional connection to the belief that "we can't go back" to budget cuts, pink slips and increased class sizes.
As a whole, coalition efforts combined with GroundWorks' teams produced more than 1.6 million IDs prior to the final four days, including reconfirming many YES votes. In those last four days the coordinated coalition effort made an additional 285,562 contacts and delivered 181,603 doorhangers. This is how a well-coordinated coalition effort wins and wins big.